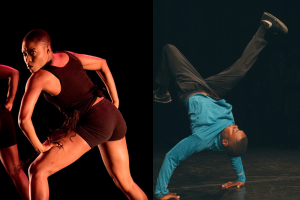 Black Fashion V M.E
choreographed by
Jackie 'Jaxx' Kibuka 
performed by Jackie 'Jaxx' Kibuka, Tina Omotosho and Kabuki Johnson 
The evolution of three black women breaking free from the dictated margins created by society. The piece will take you on a journey of struggle and resilience to a realisation of self-acceptance and embrace.
Happy Father's Day
created by Dani Harris-Walters and performed by
Keanu Simms
Happy Father's Day
' a solo work created by Dani Harris-Walters. This is a piece for all the ages, with a soundtrack that boasts Jungle, Reggae & Hip Hop classics, coupled with movement that will have you grinning, then gasping in amazement. This uniquely crafted work is the unconventional puberty lesson you wish you had during school.
Deuce
presented by Iona Brie
Continuing on from 'I Know Not These My Hands' shared at Resolution Festival in Feb of this year, and her new piece 'Calcli' choreographed on Chrysalis London, Iona debuts her new solo work 'Deuce'. Iona explores her recent journey post two knee operations and what it means to be an injured dancer in the industry. Deuce recollects and builds on 'I Know These My Hands' struggle of personal turmoil, blame and trauma. ​​​​​​​
Thursday 11 July 2019
7:30pm
Studio 3 Arts, Galleon Community Centre, Boundary Road, IG11 7JR
£5 concession / £10 general admission



Clout!
Barking's very own pre-Edinburgh, Fringe Theatre Festival 
Clout
! is back by popular demand this summer from the 
4th to the 14th July 2019
.
Clout! is a new performance festival for East London which gives opportunities to artists and theatre companies to present new and existing work and work in development. 
​In addition to programming our Theatre at Studio 3 Arts, for the first-time we will also be presenting work at Unit 46, our shop space in Vicarage Field Shopping Centre.