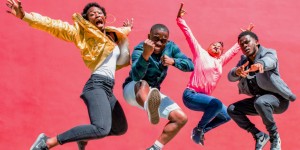 Sweet Like Chocolate Boy
presented by Tristan Fynn-Aiduenu
produced By Playback Drama
performed by Alice Fofana, Bernard Mensah, Jade Hackett and Michael Fatogun
Mars is a street-smart, enthusiastic, lyrically saturated young man on the way to propose to the girl of his dreams...and join a Black lives matters march to woo her for good measure . But on the way, he meets a barrage of characters - both alive and undead - questioning his heart , head, health and hubris in the London borough of Obsidian.
On the other side, Bounty is a very quiet boy in the very loud borough of Obsidian - but in the 80s and 90s. Living in a strict household, he is in constant awe of the politically charged Black world around him. It is all spiritually explosive stuff; but as Bounty witnesses deaths & births, riots & carnivals, love & indifference - he questions whether he is has both the strength and will to survive.
As the worlds of Mars & Bounty collide, can they find their place in these times or will they get chewed, swallowed and digested by it?
Sweet Like Chocolate Boy, is a storytelling epic that melts timelines, lives, fantasy, garage, jungle and brings to the boil the broiling estates of London.

Saturday 13 July 2019
7:30pm
Sunday 14 July 2019
7pm
Studio 3 Arts, Galleon Community Centre, Boundary Road, Barking IG11 7JR
£5 concession / £10 general admission



Clout!
Barking's very own pre-Edinburgh, Fringe Theatre Festival Clout! is back by popular demand this summer from the 4th to the 14th July 2019.
Clout! is a new performance festival for East London which gives opportunities to artists and theatre companies to present new and existing work and work in development. 
​In addition to programming our Theatre at Studio 3 Arts, for the first-time we will also be presenting work at Unit 46, our shop space in Vicarage Field Shopping Centre.