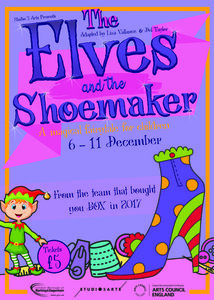 A Magical, festive re-telling of the classic brothers Grimm fairytale, The Elves & the Shoemaker is specially created for everyone aged 2 and above.
The kind shoemaker is very poor and is down to their last piece of leather left to make shoes to sell. Before heading to bed they carefully cut out the pieces of leather, so they can make them into a pair of shoes.
The shoemaker awakes the next morning to find the leather is gone and, in it's place, the most amazing pair of shoes in the world! The shoemaker hurriedly sells the shoes, buys more leather, cuts out the pieces ready for the next day and the same thing happens again… another pair of amazing shoes!
But who is making them? And what do they want in return?