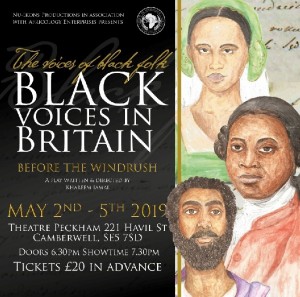 Nu Ikons Production are pleased to announce the latest chapter in their "Voices of Black Folk" series-"Black Voices in Britain Before The Windrush."  Written & directed by Khareem Jamal-one of the creators of Black Heroes in The Hall of Fame.  
The average person might have the impression that Black presence in Britain, is a recent one. However the missing pages of British history- that which is never taught in schools or academia- presents a whole different narrative.
This production gives a fascinating insight into three of the many notable characters who lived and died right here in Britain.
Date:
 2 – 5 May | 7.30
Ticket Price:
 Adult £20 | Child £10 (under 18yrs) | OAP £10
Group tickets buy 10+ and get them for £18 each