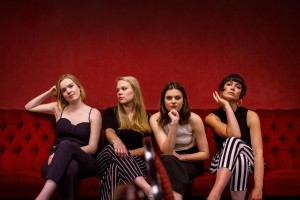 Transatlantic Folk presents The Magpies With Support from Robert Jackson
Transatlantic Folk is a monthly concert series featuring high quality up and coming acts from the Folk and Americana scene in the UK. The events are curated by Lichfield / North Carolina based duo 'A Different Thread'  who are proud to present some of the talented artists that they have met on the road over the last few years.
"A natural chemistry... all three voices blend and harmonise beautifully... the mix of styles offers so much promise."  -  Folk Radio UK
The Magpies formed in their hometown of York in the autumn of 2017.  The project was initially a duo between Bella Gaffney and Polly Bolton but 2018 saw them join forces with cellist Sarah Smout and fiddle ace Holly Brandon.  Together, they create a transatlantic blend of Celtic Folk and Bluegrass packed with powerful vocals, glittering instrumentation and plenty of Northern charm.
Their original and traditional arrangements have been making waves in the scene and led to them performing at Folk Alliance International in Montréal in 2019. Over the summer they played a host of festivals including Glastonbury, Larmer Tree, Warwick, Costa del Folk, and Shambala, whilst recording their debut full band album for release this winter.

Friday 24th January 2020 - 7.30pm
Tickets £15