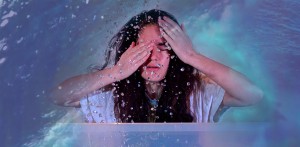 'My mum threw a trifle at my best friend and that's when I first thought something was probably wrong.' A mother. A daughter. An hour. A bond.
Questions. Answers. Trifle. Tides.
Refresh. Restore. Release.
Critically acclaimed SpeakUp Theatre presents a searingly honest, intimate one-woman show about how it feels to care for someone who can't always show that they care for you. "A moving exploration of the meaning and steadfastness of a child's love in the face of tough odds" (The Scotsman). LOVE (Watching Madness) is a fast-paced hour of writer/performer Isabelle Kabban's attempts to fix, forgive and protect her mum, prior to her late diagnosis of bipolar disorder.
★★★★★
"Poignant and raw…Must be seen"
EdFringe Review
Mental Health in Focus at The Hub 
Love (Watching Madness) is the first of a two show spotlight on Mental Health at The Hub supported by the Samantha Maritza Trust –  Their goal is to break down the stigma associated with mental health, encourage people to talk about mental health issues and to encourage people to seek help.
Ticket price includes a post show discussion with the artist.

Thursday 23rd January 2020 - 8pm
Tickets £12