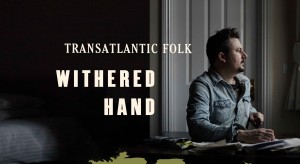 Transatlantic Folk – February
A Different Thread
presents, Withered Hand + support from Jack Blackman
Every month, Transatlantic Folk features high quality up and coming acts from the Folk and Americana scene in the UK, the USA, and beyond.
Withered Hand is the songwriting output of Dan Willson. A cult figure in the Scottish music scene since 2009, Dan has released two widely acclaimed albums, New Gods (2014) and Good News (2009) and several lo-fi EPs. Currently working towards his third full length album, Withered Hand continues to tour in the UK and further afield, playing in venues ranging from concert halls to living rooms.
For this show, Withered Hand will be performing solo with an opening set from Alcester based, Jack Blackman. Blackman is a rising star in the singer-songwriter genre, with his bluesy blend of folk, rock and country, Blackman's playing has put him on the map with Bob Harris, who described his sound as "exceptional".
"Endlessly loveable stuff" NME 7/10
"Killer melodies" – 'Artist to Watch' – Rolling Stone – 2011
Brought to you by English / American songwriting duo 'A Different Thread' (aka Robert Jackson of Lichfield, UK and Alicia Best of Durham, NC) who met busking in Ireland in 2016.  They have been on the road together ever since, playing their own brand of 'British Americana' to a steadily growing audience. With the help of Lichfield based duo, Chris Elliot and Caitlin Jones, A Different Thread are proud to present some of the talented artists that they have met on the road over the last few years.
For more from A Different Thread, visit: www.adifferentthread.com
For more from Chris Elliot and Caitlin Jones visit: www.chrisandcaitlinmusic.org.uk
Friday 28th February 2020 - 7.30pm
Tickets £15