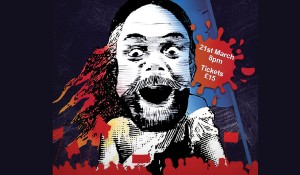 Stage Door Johnny presents…
'Less Miserable' – your favourite shows ripped off, ripped up and reworked beyond recognition!
Cabaret sensation Stage Door Johnny loves musical theatre. So much so, that he's decided to put a show together featuring songs from some of his favourites. He also enjoys being a complete idiot, so there'll be a healthy dose of that too.
Simultaneously a love letter and hate mail to Broadway and The West End, featuring standards from the world of musical theatre; parodied, sent up and potentially ruined for good!
Saturday 24th October 2020 - 8pm
Tickets £15