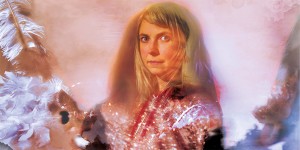 "Hello – I thought I'd introduce myself properly – As is polite."
Theatre show, written and performed by Caroline Horton – an intimate and absurd exploration of wanting to live, wanting to die and what can happen if we sit together with the dark.
Grudgingly hopeful, occasionally funny, Caroline reunites with director Alex Swift (Mess) to bring you an unapologetically dark show about dark things.
Age guidance: 14+
Content Warning: All of Me contains themes of depression and suicide.
Running time: Approx. 70 minutes
AWARDS
– Winner of The Scotsman Mental Health Fringe Award 2019
– The Stage Edinburgh Award 2019 recipient
– Lustrum Award 2019 recipient
Mental Health in Focus at The Hub 
All of Me by Caroline Horton is the second of a two show spotlight on Mental Health at The Hub supported by the Samantha Maritza Trust –  Their goal is to break down the stigma associated with mental health, encourage people to talk about mental health issues and to encourage people to seek help.
more info at  https://carolinehorton.net/work/theatre-projects/all-of-me/

Thursday 30th April 2020 - 8pm
Tickets £15