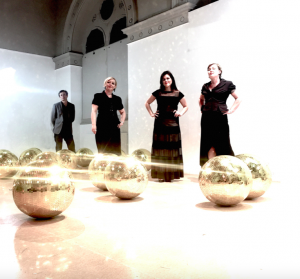 The Bevvy Sisters are pure vocal magic, distilled to the power of three and cut with a dash of potent Scottish spirit.  Mixing equal measures of sweetness and sass, grit and glamour, heartbreak and hilarity their radiantly triple layered voices and artfully wide-ranging repertoire of vintage, contemporary and original songs stand out from the crowd in both style and substance.
Musically thrilling and hugely entertaining you can bet your bottom dollar that an evening in the company of Heather Macleod, Gina Rae, Louise Murphy and David Donnelly at Ventnor Fringe will bring a whole new meaning to the concept of "a good night out"!
Friday 26th July - 8pmTickets
 £12.00 
Conc. 
£10.00 (Fringe Friends 2for1)
16+