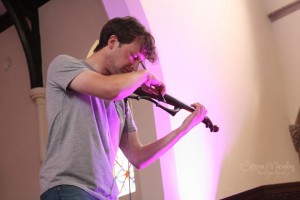 Arthur Sawbridge, violinist and composer, started playing on a 1/16th size instrument at the age of four.
In 2010 he swapped orchestras for looping pedals and dived into Oxford's alternative music scene. Earning comparisons to Arthur Russell, Mark Mothersbaugh and Brian Eno, his work has been described as 'palatial minimalism, composed in every sense.' (OTR)
Arthur has performed his personal, expansive, ambient soundscapes in museums, churches, and galleries in Oxford, Edinburgh and London. He will be returning to St Catherine's after an absorbing performance at Ventnor Fringe in 2017.
Thursday 25th July - 8pmTickets:
£8, £5 Conc., £20 Family of 4, Fringe Friends 2 for 1
All Ages