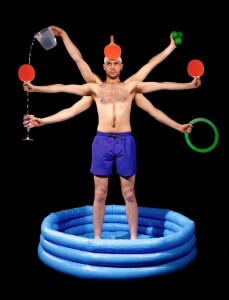 "Juggler, water-bender, and part time deep thinker Robin Boon Dale presents the full-length edition of his award-winning show.
Robin guides you through his mind and body of research, utilising insights from his circus training alongside ideas borrowed from object oriented philosophy, to offer new ways of thinking about the physical world.
Featuring pouring, performance ping pong, and a motivational speech delivered by a man in swimming trunks, this eccentric renegade philosophy lecture flourishes into an astounding circo-oddyssey."
Thursday 25th July - 5pmTickets:
£12, £10 Conc., Fringe Friends 2 for 1
12+