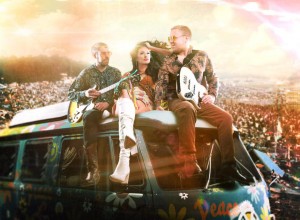 Return to Hippy Heaven!
We invite you to dance under a diamond sky as we pay tribute to the greatest counter culture of the 20th Century. Born on the West Coast of America, the Hippy movement quickly spread around the globe, taking with it a powerful social and musical message and a unique new sound.
Combining archive film footage with a superb live band and singers, we chronicle the events that provided inspiration for the songs that became the soundtrack for a generation.
You will hear worldwide hits from:
The Byrds, The Doors, Mamas & the Papas,Crosby, Stills and Nash, Jefferson Airplane, Joni Mitchell, James Taylor, Creedence, Clearwater Revival, The Beach Boys, The Monkees,The Turtles, Carole King
and many more.
With sell out performances and standing ovations the show is loved by, not only those who experienced the magical mid-sixties at first hand, but also a new younger audience attracted by the iconic fashions and classic chart tracks that still feature in advertising campaigns to this day.
Slip on you flares and slide on your shades and join us as we travel back to the era of Flower Power, when music meant much more than money!
Saturday 31st and Sunday 1st August 2021 - 7pmTickets
 £15.00 
All Ages