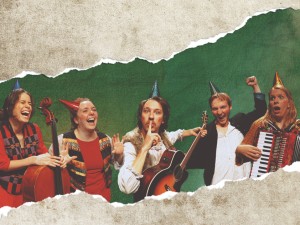 1647. Celebrating Christmas is banned. Carols are criminal. Turkey's taboo. But we don't give a figgy pudding.
A riotous musical comedy that takes audiences back to 1647, as a motley troupe of rebellious performers host a secret, late-night Christmas party against the backdrop of Puritan bans on theatres and Christmas festivities. Carols are criminal. Turkey's taboo. Banquets are banished and stage-plays prohibited. In fact, festivities of any kind are quite frankly forbidden. Sound familiar?
Full to the brim with live music, tall tales and belly laughs, Riddlestick Theatre immerses the audience in a world of folklore, song, and of course, good old festive fun!

Thursday 17th - Friday 18th December 2020 - 8pm
Adult £12.00 Under 25 £5 (Friends 2for1)
14 + 

To enable social distancing this performance will now take place at St Catherine's Church which is located directly opposite Ventnor Exchange.