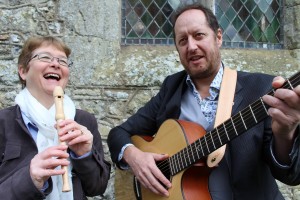 Coppersmith adapted to life online but are very glad to be back with some stunning newly written songs as well as plenty of old favourites. Based on the Isle of Wight, Coppersmith are a modern folk duo playing all original songs.
Glenn Koppany writes the songs and he and Linda O'Connor then develop them together. Glenn sings and plays guitar and Linda sings and plays recorder and whistle. Glenn draws on many themes for his song writing, inspired by nature, the sea, folk tales, history and the everyday struggles of women and men. Coppersmith also have a strong interest in songs with a social message and play at events for Amnesty International, Planet Aware and local charities as well as festivals and folk clubs.
Perfect for a relaxed, thought-provoking, afternoon's entertainment, Coppersmith will take you on an emotional journey of lost loves, historical tales, modern-day angst and quiet heroism. Moving and uplifting with honest lyrics and beautiful harmonies, these are songs you will remember. Life, love, heartache and joy, it's going to be another rollercoaster ride and we hope you can make it!
Saturday 31st July & Sunday 1st August 2021 - 3pm Tickets: 
£8 
Family (2 Adults & 2 Children):
£20 
Under 25: 
£5 
Culture Pass/Unlimited Pass: 
2for1 
12+