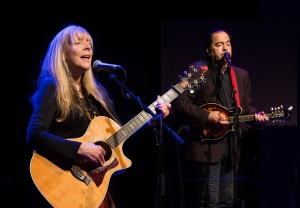 Charlie Dore, one of the UK's most respected songwriters returns to Ventnor for the 4th year running along with her long-time collaborater Julian Littman of Steeleye Span. This year, the multi-tasking, multi-award-winning artist brings her 10th album, Like Animals with her, having received across the board excellent reviews plus FATEA's Female Artist of the Year 2021 award.
While her own albums favour her more eclectic/roots leanings, she is one of a handful of UK writers to achieve success across many diverse genres, with songs covered by Tina Turner, George Harrison, Celine Dion, Lisa Stansfield, Paul Carrack, Ricky Ross and Jimmy Nail, notching up along the way a UK No 1, a US No 4 and Top 10 hits across Europe.
Charlie has also worked as an actress in theatre, film, (the award-winning Ploughman's Lunch, opposite Jonathan Pryce) TV, Radio with Eric Idle and co-founded London Comedy Impro venue, The Hurricane Club, performing alongside many comedy icons including Bill Bailey, Stuart Lee and Robin
Williams. She says she enjoys shape-shifting and is alreading looking forward to sharing her next venture, a series of essays about her backstage life, 'Background Noise'.
Friday 23rd July 2021 - 8pmTickets:
£12