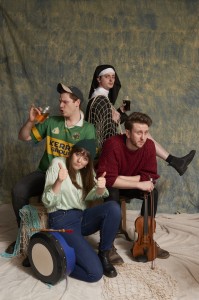 Ireland, 1966. An ordinary skipper sails into Dingle Bay with a very unusual catch…
What follows is a ridiculous series of events involving Eamon De Valera, Queen Elizabeth, and a whole bunch of nuns. An almost unbelievable true story, Catch of the Day is a 'side-splittingly funny' 
 (The Irish Post ★★★★★) mash-up of live music, comedy and theatre that makes one craic-ing night out.
Following an award-nominated run at Edinburgh Fringe, critically acclaimed shows in London and Oxford, and its sell-out Irish tour, Catch of the Day visits Ventnor for the first time.
One fish can make a big splash. 

28th October 2021 - 8pm
Tickets: £12 Under 25 £6 Culture Pass 2for1 Unlimited Pass Free
Age: 12+ Duration: TBC

More immersive than Netflix. Louder than Spotify. Support our work and get free tickets to every show. Subscribe to Ventnor Exchange with an Unlimited Pass for just £9.99/month