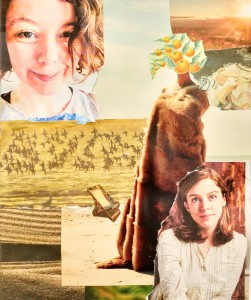 'Wave after Wave' is an immersive poetry show from award-winning Island poets Becky Varley-Winter and Lily Blacksell. The show takes it's title from past Isle of Wight resident and Victorian Poet Laureate Alfred, Lord Tennyson (the same poem which inspired a set of songs by Kate Bush, in fact !).
Though they both live in London these days, Becky and Lily are often back on the Isle of Wight and they find themselves consistently, not always consciously, returning to Island landscapes in their poems and stories. The sea seeps in and out of their writing. Join them for an evening of Island poems. Maybe even join them for a short open mic slot , with sign ups on the door.
'Lily does beautiful iamges and a dry sense of humour like no one else' - Jenna Clarke, critic and poet.
'The everyday (is) in the fantastical - bored damsels, witches living on cliff edges, and the Lady of Shallot scrolling through unsolicited 'sword pics' - but the fantastical is also in the everyday, and some of my favourites here are Rebecca's incredibly tender and expansive poems on heartbreak and love and loss' - poet Alex MacDonald on Becky's debut poetry collection 'Heroines - On The Blue Peninsula.
Sunday 25th July 2021 - 7pmTickets:
£12
Under 25
£9 
All Ages