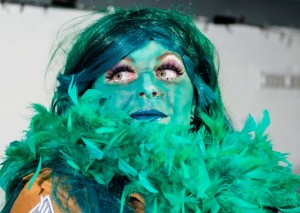 "How I became a part of something, many things and found a family through fandom."
Straight from premiering at Brighton Fringe, Emma Ashley-King brings her pit-stop tour of fandom told through comedy and cabaret to the Ventnor Fringe.
Featuring personal anecdotes relating to conventions & stage doors, to dramatic fan fiction recitals, dancing, musical interludes and some alternative lyrics to the 80s song 'Superman'. Accio Fandom is a show that pokes fun at herself/other geeks while being accessible to those who know little about it. A little surreal, lots of heart and all performed while cosplaying as She Hulk. Accio Fandom is a comedic 101 of fandom and celebrating both the friendships made through it and the lives who are touched by this weird and wonderful world.
Semi-finalist of South Coast comedian of the Year 2019.
"Emma is the hilarious and acceptable face of fandom. Comic cons, Cosplay, autograph-stalking - she's seen it all, done it all and extracted all the humour and put it into her material. Never predictable, always hilarious, Emma makes the world of geekdom a joyful and funny place."
- Matt Roseblade
"Emma is entertainingly relatable"
- Dan Churchley of Solent Comedy
Friday 23rd July 2021 - 6.30pm
Tickets:
Free or Pay What You Can at venue