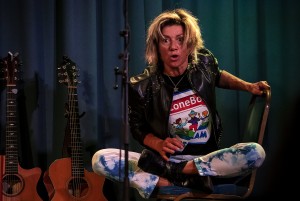 A boy is made a star due to his appearance, but the poo hits the fan... obviously… Sound familiar?!
Crossing decades, Coneboy is a satirical view of society's obsessive need for voyeurism, dished up in divots of sure-fire-slang and minstrel'ing. All 'ConeBoy' hopes for is a normal life, but his dreams are dashed by all that surround him, as his '15 minutes of fame' is extended well beyond its reach, in a buzzing press-fuelled world.
Creator is pioneering musician and writer Clive Parker who tells a fuel-injected rollicking story based on personal experience accompanied by sidekick, actor/singer Marshall Star.
Clive's first book 'The Box' has been adapted for TV by screenwriter Tim John, and signed to Lost Eye Films. Clive teases out his latest, the semi-autobiographical novel, ConeBoy, via spoken-word, drama, and acousto-rock, followed by a Q&A.
The rock 'n' roll musical gets the counterculture treatment. Clive has played with punk groups The Members, Spizz Energi, and Athletico Spizz 80, was founding member and songwriter in 80's mega-band BIG COUNTRY. Also, JESUS AND MARY CHAIN spinoff The Expressway.
'Engaging and enthralling'
- Sharon Gaffney - Director, Pump House Theatre
'I had to gasp for air, intensely gripping, thought provoking..'
- Sean Coepenick - Razorcake
'Not long enough'
- Dan Hegarty - The Alternative on RTÉ Radio
'… a jolly good knees up'
- Ann Ford, Rye
Sunday 1st August 2021 - 6pm 
Tickets: 
Free
12+