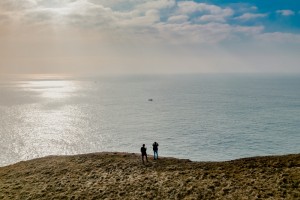 Award-Winning production company Deadman (Artistic Director, Samuel Bossman) stage the first in a set of R&D performances telling the story of the most infamous crime in modern island legend, The Freshwater Five.

10 years on from the original convictions The Freshwater Five recounts the tale of five men caught up in one of the biggest drug busts in Isle of Wight history. Beginning on the eve of the 2021 appeal, Isle of Wight-born playwright Liam Patrick Harrison's stageplay is a detailed and rich theatrical investigation into the men's tragic downfall. Through spectacular storytelling, verbatim accounts and inventive stagecraft the island-based cast explores historic precedent, maritime mythology, the British justice system and stories sunken/unspoken within coastal communities.
The Freshwater Five is a regional research and developed project funded by Arts Council England & The Mike Howley Trust. Supported by The Quay Arts Centre & Ventnor Exchange.
Wednesday 1st - Thursday 2nd December 2021 - 8pmTickets:
£6 
Culture Pass
2for1
Unlimited Pass
Free
Age:
12+
Duration:
TBC