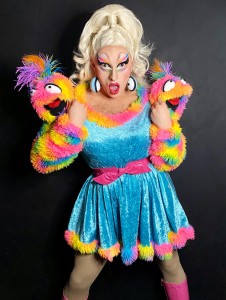 Growing up on the Isle of Wight as a little gay weirdo, living on a farm where her only friends were cows, Fanny Quivers' life had very interesting beginnings.
Cut to now, following some… interesting life experiences, Fanny reflects on the events of her life so far - the good, bad, and the damn right questionable.
Expect crude humour, chronic over sharing, and some (potentially catchy) original songs, all while remembering her golden rule: we've gotta laugh.
"The dog's b***ocks"
- Baga Chipz
"Awesome, witty, naughty"
"A camp riot of songs, silliness, and sass"
Fanny Quivers is the Isle of Wight's own cross-dressing drag clown who needs practically no encouragement. This handsome woman is here to make you laugh and bring you some joy.
Fanny's live shows include all sorts from live warblings, comedy, puppetry, character comedy, to ukulele. So, while her specific talents are yet to be determined, she can guarantee you'll get a show... whether you want it or not.
Saturday 23rd July & Sunday 24th July 2022 - 8pm - 9pmTickets:
 £12, 
Under 25
 £10, 
Culture / Unlimited Pass
 2for1 (Saturday Only)
16+