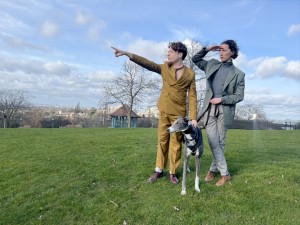 *CANCELLED*
'M U S I C' is a show about art, gods and obsession. Mostly, though, it's about the music.
Jacob Larrick is a young AI programmer for Stripify – the world's most popular music streaming service, and pines for the artists of the 60's and 70's, those pioneers who live on as sparkling deities in the public imagination. When, he wonders, will we see their like again?
So, when a chance encounter with a disgraced - but brilliant - geneticist leads to an unexpected opportunity, he takes his chance. He creates his very own, original Stripify 'recommended artist': with the imagination of Bowie; the charisma of Brown; the acerbic wit of Lennon. This artist has it all, and as he skyrockets through the charts, he takes a delighted Jacob along for a ride.
That is, until certain other, less appealing personality traits begin to show themselves…
'M U S I C' is the second sketch-gig-theatre collaboration from HangDog, the all-singing and never-dancing lovechild of the maniac clown Jacob Lovick and Chester's longest-haired songwriter Jack Toop, who brought their debut show 'L O V E' to Ventnor Fringe in 2021 to great acclaim.
"The sort of show that makes you excited about the Fringe again." - Broadway Baby ★★★★★
★★★★★ Mumble Comedy
★★★★★ EdFringeReview
Friday 22nd, Saturday 23rd & Sunday 24th July 2022 - 8.30pm - 9.30pmTickets:
 £10, 
Under 25
 £8, 
Group of 4
 £30, 
Culture / Unlimited Pass
 2for1
16+