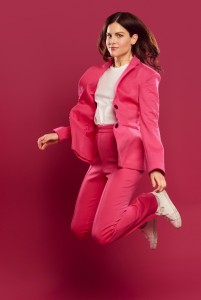 From comedian Micky Overman comes a brand new show that's got it all: Patrick Swayze!… Other stuff! It answers some burning questions like: "how did one find a wife in ancient Babylon?" and reveals how a minor medical issue led to a possible encounter with a witch. 
As a stand-up comedian, Micky's solo shows have received great acclaim and she was previously nominated for Chortle Best Newcomer. She has written for and acted in sketches for Channel 4, BBC3, Pulped and The Hook, and her social media sketches have received millions of views.
Originally from the Netherlands, Micky's outsider perspective, quick wit, silly delivery and spot-on observations make her one Britain's most exciting female voices.
★★★★1/2 (Funny Women)
★★★★ (The Voice)
"A pin-sharp torrent of precision gags and delightfully silly one-liners"
The Observer
"Positively throbbing with confidence in her comedy powers"
Chortle

Sunday 24th July 2022 - 6pm - 7pmTickets:
 £12, 
Under 25
 £6 
Culture / Unlimited Pass
 2for1
16+