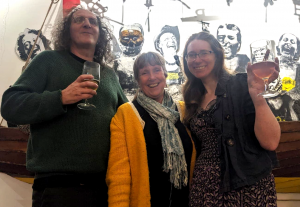 Following several shows as "Three Island Storytellers", Holly Medland, Tony "Monty" Hirst and Sue Bailey are coming to Ventnor Fringe for a first performance in their new guise of 'Tis Tales.
Drawing on a wide range range of traditional stories, fabulous folk tales, magical myths, lost legends, and possibly even a few lies, the performance is sure to feature some stories you may recall as having heard somewhere before, once upon a time, and others that will surely be new to you.
So leave the box sets behind, unsubscribe from the podcasts, turn off the radio, forego the theatre, and instead come and enjoy a programme of tales told the traditional way.
Saturday 23rd July 2022 - 7pm - 8pmTickets:
£8,
Under 25
£5,
Culture / Unlimited Pass
2for1
12+