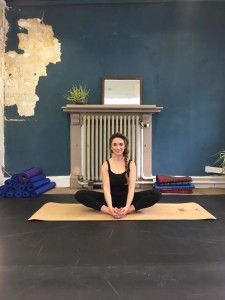 Becky Bourcherat teaches Vinyasa yoga, with a style that is flowing, playful, patient and nurturing. Her classes build heat and strength in the body, while also creating space for students to listen to their own body's needs with self-compassion and curiosity. Becky guides students clearly throughout the class, through each movement, in a way that is accessible for beginners as well as more experienced yogis. 
"Classes at the Ventnor Fringe Festival will be open to all levels, with room for those with experience to go further and for beginners to take their time. Set in the grounds of Ventnor Park, we'll make the most of the beautiful surroundings, with a little breath work to begin, easing into a playful flow -  building the energy, before bringing it back down to the ground and sinking into a restful savasana. Topping you up with all the good stuff to make the most of the festival's weekend shenanigans. 
By taking part in this yoga class you are also taking responsibility for looking after your own body, as you know it best. Please do let me know about any injuries, if you are pregnant or if you are working with anything particular that I should be aware of at the beginning of class. Mats will be provided but do feel free to bring your own along with some warm layers, just in case.
Big love and looking forward to seeing you on the mat in one of my favourite places in the world!"
Friday 29th & Saturday 30th July 2022 - 10am - 11amTickets:
 £7