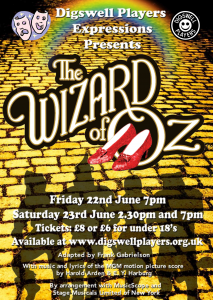 Digswell Players Expressions Youth Theatre Presents
The Wizard of Oz. The Musical.
Performances: Friday 22nd June 7.00pm Saturday 23rd June 2.30pm and 7.00pm .
Venue Digswell Village Hall 30 Harmer Geen Lane, Digswell, AL6 0AT .
Box Office phone: 0845 20 90 100 Tickets £8 Adult. £6 under 16's  
Book a pre-show meal at the Cowper Arms, Digswell. Tel: 01438 714080.
http://www.cowperarmsdigswell.co.uk