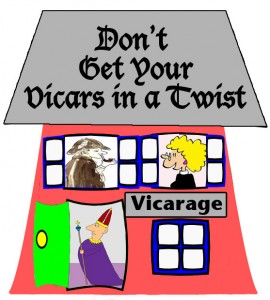 'Don't get your Vicars in a Twist'
is sure to get you laughing!
This fast moving comedy involves mistaken identity, misunderstandings, cross-dressing, chaos and vicars!
Synopsis
: It centres around George, who needs money to pay for his daughter's wedding. The Vicarage is currently empty as they are awaiting a new Vicar, and George hits on the bright idea of renting it out to a theatrical company for a Murder Mystery Weekend. Unfortunately, before the weekend can take place, Bishop Herbert appoints their first woman Vicar, the Revd Caroline Timberlake. When Caroline goes away for the weekend, George is determined that the event should go ahead. But then the other Church Warden starts asking questions, the Bishop comes to call, the theatrical 'lovies' take over the place, and the audience for the murder mystery begin to arrive. As chaos mounts, George finds himself kidnapping a Bishop, pretending to be Caroline, and tearing his hair out as he tries to keep order!
Written by Ann Gawthorpe and Lealey Bown. Directed by Diana HoltPre-show meals
can be booked at the Cowper Arms in Digswell. Tel 01438 714080.
Parking:
Limited around the hall. Parking available at the Cowper Arms if booking a pre-show meal.
Venue
: Digswell Village hall, 30 Harmer Green Lane, Digswell AL6 0AT
www.digswellplayers.com
Box office Phone: 0845 20 90 100.