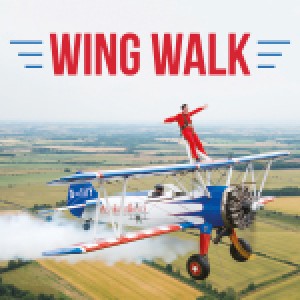 Thursday 6 June 2024 (daytime) 
£150 registration fee (upon booking) plus £850 minimum sponsorship 

 

(achieved 2 weeks before the event)



The sky's the limit with National Star's fundraising wingwalk 
 
Strap yourself in for an out-of-this-world adventure that will send your adrenaline soaring. With the roar of the engine in your ears you'll take in awe-inspiring sights as you fly

up to 120mph and

experience a thrilling series of flypasts, zoom climbs, steep dives and banks.
 
Dare to achieve a lifelong dream to fly and sign up today in aid of young people with complex disabilities! 
 



What's included:



- Pre-flight safety briefing

- An unforgettable 8 to 10-minute flight on a Boeing Stearman biplane with AeroSuperBatics, who have over 30 years' experience and a 100% safety record 

- The chance to control your experience – amp up or tone down the thrill

- The opportunity to purchase footage of your flight (in digital format)




Restrictions


Please read the full Terms & Conditions HERE before booking a place.



You may fly if you are: 



- 18 years old or over (no maximum age applies).

- No taller than 6ft 2"/188cm.

- No shorter than 4ft/121.92cm.

- No heavier than 14st/89kgs.

- Have a waist measurement including layers of warm clothing and a jacket of no more than 40 inches/102cm.

- Are able to climb completely unassisted up to and down from the top wing of one of our Boeing Super Stearman biplanes. This is a steep climb of approximately 10ft/3m, involving a high leg lift up on to the bottom wing and another high leg lift to get over the side of the cockpit, kneeling and pulling yourself up using the various struts and wires to get on to the top wing.

- Are able to withstand the strong wind pressures experienced while flying at speeds of up to 120mph.
-You have not suffered from any of the following conditions: Epilepsy, fits, severe head injury, recurrent blackouts, fainting fits or giddiness, disease of the brain or nervous system, high blood pressure, heart or lung disease, recurrent weakness or dislocation of any limb, diabetes, mental illness, drug or alcohol addiction. If you suffer from these conditions but are regularly monitored by your doctor and the condition is medicated and under control, then you can fly with us. If you have any concerns at all regarding your health, fitness and ability to wingwalk, then we ask that you consult your doctor.
Before flying, all participants must undergo a Safety Briefing and thereafter complete a 'Safety Standard Acknowledgement, Next of Kin, Self-Certifying & Indemnity Form'
Cost:



Non-refundable registration fee of £150 to take part
£850 minimum sponsorship*

Ten or more wing walkers will reduce the flight costs, enabling National Star to benefit from additional money raised.

*£249 from the money raised through sponsorship combined with the registration fee covers the flight cost of £399



Upon booking, a member of the Fundraising Team will be in touch