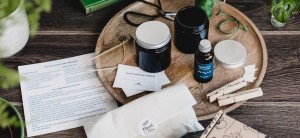 Make your own essential oil soy scented candle with Hazel & Blue, taking you step-by-step through the candle making process and techniques.
During this adult creative workshop you will make your own candle to take home with you, having mixed and poured the soy wax and chosen the essential oils to blend yourself. Learning the different types of fragrances, you will blend your own candle scent using Hazel & Blue's nature inspired essential oils.
Hazel & Blue creator Becky Avery is inspired by fresh flowers, botanicals, woods and spices and creates uplifting, warm and cosy scents for the home. Made with natural, eco-friendly ingredients sourced within the UK, Corsham based Hazel & Blue's sustainable products are ethical, vegan and eco-friendly with 100% recyclable packaging. A range of Hazel & Blue products are available to buy in the Museum Shop.
This workshop is one in a programme of Saturday creative workshops for adults taking place at Chippenham Museum every month until May 2020. Please note tickets are non-refundable.
Chippenham Museum is open Monday to Saturday from 10am to 4pm. The museum, a Chippenham Town Council facility, is free to enjoy with two floors of galleries to explore.