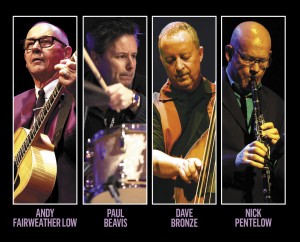 Andy Fairweather Low's pedigree is the stuff rock dreams are made of. He first came to prominence at the vanguard of the new youthful expression of music as the lead singer in Amen Corner. The 60s saw them clock up hit after pop hit. Songs such as 'Bend Me Shape Me', 'Hello Suzy', '(If Paradise is) Half As Nice' are internationally remembered to this day.
Since the early days Andy has gone on to work with Eric Clapton, George Harrison, Bob Dylan, Jimi Hendrix, David Crosby, The Band, Elton John, Roger Waters, Richard and Linda Thompson, Dave Gilmour, The Who, BB King, Joe Cocker ... and hundreds more.  
Now following a solo path, his first solo album in 24 years Sweet Soulful Music was released late in 2007 followed by The Very Best Of Andy Fairweather Low which was released in the UK in June 2008 and the Live DVD followed hot on its heels.
Following an acclaimed UK Tour in Autumn 2012 Andy completed a third tour with The Low Riders in Germany.
If you just remember Andy's early work and major solo hits such as 'Wide Eyed And Legless', you're in for a treat - there's so much more!