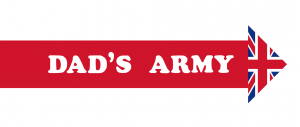 As Project Play enters its third year, following superb productions of The Vicar of Dibley and Allo Allo!, this all time favourite is sure to be yet another big hit.
The classic BBC TV comedy series of the Home Guard of Walmington-on-Sea who battle daily against the Germans and local ARP Warden Hodges, comes to the stage complete with all the well-loved characters: "stupid boy" Pike, "Don't panic, don't panic" Jonesey, "Doomed, we're all doomed!" Fraser, "May I be excused, sir?" Godfrey, and all under the command of the redoutable Captain Mainwaring and his effacing deputy Sergeant Wilson.
Three wonderful episodes, more side-splitting comedy and a nostalgic finale to boot!