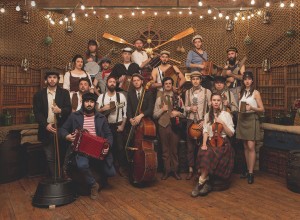 Join us for a night of sea shanties, rum, dancing, shenanigans and good times. Journey back and become a sailor for an epic night with Captain Nicholas and his 17 strong crew of musicians.
Old Time Sailors is a live music show designed to take the audience back in time through an unforgettable trip to the 19th century. Every member of the audience receives a copy of the Sunday Sailor, a newspaper-shaped program which includes the lyrics to all the songs, in order to sing-along and become a Sailor for one epic night! The crew is composed of 17 musicians playing fully unplugged to ensure the most authentic experience.
Over 30 songs and tunes where the audience will sing and dance surrounded by drunken Sailors, witnessing an astounding show unmatched in this music genre, complete with a magnificent 19th century vessel stage set.
Please note this is a standing event for over 18s
Event time: 8pm-11pm (last entry 10pm)
Book
Venue The Neeld
High Street
Chippenham
SN15 3ER