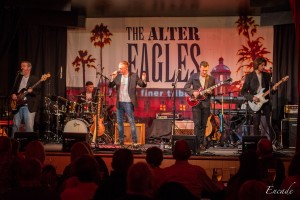 JUST TOO BUSY BEING FABULOUS – Going direct to the heart of THE EAGLES.  
THE Alter EAGLES are an amazing six piece Eagles  band based in Sussex. Since their debut gig in January 2004, they've established themselves as one of the country's top tribute acts, headlining at theatres nationally. Playing a mix of old and new Eagles' songs, all the classics - including Hotel California, Take It Easy, One Of These Nights, Take It To The Limit, Desperado and Life In The Fast Lane - as well as Henley and Walsh solo numbers and some rare treats in a full evening show the band have built a reputation as one of the most faithful EAGLES shows in Europe, ensuring that the audience enjoys a loving note-for-note recreation in sound and vision of all the Eagles', Henley and Walsh greatest hits and lots of great banter between the songs just the way it should be done.
JUST NOT TO BE MISSED !
Click here 
https://youtu.be/cHDoRZYvEX0
 Take it Easy -THE Alter EAGLES
Find out more by visiting the band's website at 
www.altereagles.co.uk
.
This show is Reserved Seating and Standing. The Standing area is t
o the rear of the seats so as not to obstruct people sitting.  
Licenced Bar at rear of hall - open throughout concert. All seats have good views.
PARKING
: Easy Free nearby Parking to Venue on Market Hill directly in front of St Peters.  Adjacent Streets and nearby free Car Parks.
TOILETS:
 St Peter's has no toilets. However, we have made arrangements with Prado Lounge which is adjacent to the venue and has extensive toilets (inc disabled). These toilets can be used at anytime during the show. Also why not stop by at Prado Lounge and enjoy a pre-show meal. Prado Lounge is open until midnight on Fridays.
All disabled bookings directly through OEP Live! on 01256 416384
You can find all our shows on Facebook: www.facebook.com/oeplive. Please do take a look and Like our page.
Sunday, 13th October 2019
Show:
 7.30PM Doors: 6.45PM 
Tickets:
 Reserved Seating £23.00, Standing £22.00 (inc booking fee)