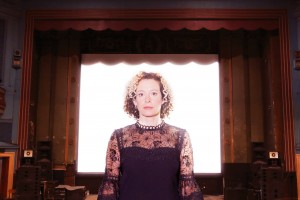 Kate Rusby - Celebrating 30 Years in 2022
"Looking back, I firmly believe music chose me, not the other way round." - Kate Rusby
'Everybody loves and respects Kate Rusby, not just for her lovely voice, but for the way she has moved folk forward while remaining true to tradition…' - 
Sunday Times
" …. exquisite interpretations of traditional material from the pocket-sized folk singer with the heartbreakingly tremulous voice and bawdy, Yorkshire wit" - 
Daily Telegraph
Kate Rusby
 is often hailed as the 'First Lady of Folk'. Announcing herself to the music press in 1999 with a Mercury Music Prize, she has forged an impressive 30-year career and headlining everywhere from the Royal Albert Hall to Cambridge Folk Festival.
2022 sees her celebrate 30 years as a professional musician with a new album release, '30 : Happy Returns' released in May 2022.
A remarkable, interpretive singer, Kate's soulful vocals resonate. Inhabiting a lyric with unforced conviction – no matter how old or how modern – she has that rare ability to transport her audience. 
2022 audiences will be treated to Kate's @30 interpretations of her songs.
As ever, she will be joined on stage by her band, each a virtuoso in their own right and including her husband and producer Damien O' Kane.
The crossover appeal Kate enjoys is unprecedented for a folk singer and has been achieved without resort to compromise.
 Her recent reimagined covers album Hand Me Down was her highest charting album to date.
Rusby's wondrous singing and hugely engaging Yorkshire wit and the intuitive support of the band ensure that audiences will be treated to a truly remarkable and unforgettable concert experience.
Click here:-
Manic Monday from 'Hand Me Down'
 (Homemade video during lockdown 2020) - 
Watch Here
Hunter Moon from 'Life in a Paper Boat' - 
Watch Here
www.katerusby.com
HISTORIC LAVENHAM is one of the UK's most beautiful medieval villages located in the heart of Suffolk, in central East Anglia.  LAVENHAM CHURCH  is an Anglican Church serving an active and thriving community and attracts many thousands of visitors each year extending a warm welcome to all.  This fantastic setting will be a Theatre style layout with Premier/Standard seating as well as a Bar.  (Note: Toilets are limited within the Church but there are full toilet blocks within a 1 minute walk just on the edge and in the Church yard). 
Premier Seating: Reserved seats within Rows A-D - Sold-out
Standard Seating: Unreserved seats from Row E - Availability
Please do not contact Lavenham Church direct as they are not the concert organiser and will be unable to provide information. Please contact OEP Live for all enquiries (including disabled bookings) by emailing: susan@oeplive.com. A member of the Team will respond asap.
You can find all our shows on Facebook: www.facebook.com/oeplive. Please do take a look and Like our page.
Thursday, 5th May 2022 (TICKETS AVAILABLE)
Friday, 6th May 2022 (SOLD-OUT)
Show: 
7.30PM Doors: 6.45PM 
Tickets: 
Premier Reserved Seating £45.65 / Standard Unreserved Seating £37.95 (inc booking fee)