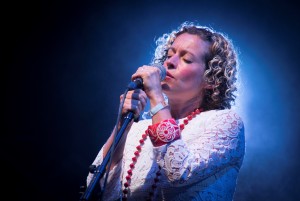 'Everybody loves and respects Kate Rusby, not just for her lovely voice, but for the way she has moved folk forward while remaining true to tradition…'      
Sunday Times
 " …. exquisite interpretations of traditional material from the pocket sized folk singer with the heartbreakingly tremulous voice and bawdy Yorkshire wit"      
Daily Telegraph
Of all the stars in Folk Music's wondrous firmament few shine as brightly as Yorkshire's Kate Rusby.
A remarkable interpretive singer, Kate's soulful vocals resonate with the wistful beauty of an earthbound angel. Inhabiting a lyric with unforced conviction – no matter how old or how modern – she has that rare ability to transport her audience, of touching them emotionally and making each tune live vividly within their experience and imagination.
Audiences are sure to be thoroughly entertained by Kate's choice of much-loved classics from her back catalogue stretching over her two decades of music making together with a selection of fresh new songs from her new album release date 17th May 2019. 
As ever, she will be joined on stage by the cream of British folk musicians who form her band.  These virtuoso artists are sure to delight you with their exceptional talents.
Damien O'Kane
on guitar, electric tenor guitar and banjo
Duncan Lyall
on double bass and moog
Nick Cooke
on diatonic accordion
Steve Byrnes
on bouzouki and guitar
The crossover appeal Kate enjoys is unprecedented for a folk singer and has been achieved without resort to compromise.
Rusby's wondrous singing and hugely engaging Yorkshire wit and the intuitive support of the band ensure that audiences will be treated to a truly remarkable and unforgettable concert experience.
Click here:-
https://youtu.be/biZt9R964l4
 Kate Rusby 'Underneath The Stars'
www.katerusby.com
HISTORIC LAVENHAM is one of the UK's most beautiful medieval villages located in the heart of Suffolk, in central East Anglia.  LAVENHAM CHURCH  is an Anglican Church serving an active and thriving community and attracts many thousands of visitors each year extending a warm welcome to all.  This fantastic setting will be a Theatre style layout with Premier/Standard seating as well as a Bar.  (Note: Toilets are limited within the Church but there are full toilet blocks within a 1 minute walk just on the edge and in the Church yard). 
Why not also stay the Night in Lavenham and experience the magic of Lavenham and surrounding areas . You will not be disappointed.  We recommend the Lavenham Priory (01787 247404 / www.lavenhampriory.co.uk).  Stay right in the heart of Historic Lavenham where you will be looked after in style by Jonathan and Ruby and just a couple doors away from the house where Harry Potter was born!! Or at The Angel Hotel in the historic Lavenham Square (01787 247388 / www.theangellavenham.co.uk) where John Lennon and Yoko Ono filmed in December 1969.  Click here 
https://youtu.be/o7iwa7aTCOc
 and go back in time.  Also, please do enquire at The Angel Lavenham for pre-show and after show meals. Great service, food and Accommodation – Landlord John and his staff will look after you personally. 
Premier Seating: Reserved seats within Rows A-D (Call box office on 01256 416384 to book) 
Standard Seating: Unreserved seats from Row E.     
For Disabled bookings/requirements, please call the Box Office direct on 01256 416384.
You can find all our shows on Facebook: www.facebook.com/oeplive. Please do take a look and Like our page.
Friday, 24th April 2020
Show: 
7.30PM Doors: 6.45PM 
Tickets: 
Premier Reserved Seating £45.65 / Standard Unreserved Seating £37.95 (inc booking fee)