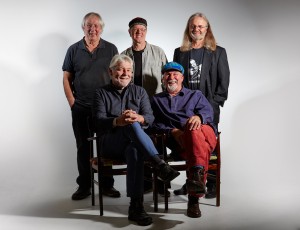 Fairport Convention has been entertaining music lovers for over half a century. During that time the band that launched British folk-rock has seen many changes. But one thing has remained the same - Fairport's passion for performance.
This year's October Tour concert will present a mix of long-established Fairport favourites and some surprises from albums old and new including Full House which was released 50 years ago this year. The band skilfully interprets traditional ballads and the repertoire also includes plenty of contemporary compositions. Their latest album 'Shuffle & Go' was released in February 2020.
Fairport Convention have won a BBC Lifetime Achievement Award and Radio 2 listeners voted their ground-breaking album Liege & Lief 'The Most Influential Folk Album of All Time'. Their story has been celebrated with television documentaries on BBC Four and Sky Arts.
The band features founding member Simon Nicol on guitar and vocals, Dave Pegg on bass guitar (celebrating his fiftieth year in Fairport), Ric Sanders on violin, Chris Leslie on fiddle, mandolin and vocals, and Gerry Conway on percussion.
"Stuffing their set with a surprising amount of new material for a vintage act, Fairport are still clearly having fun and brought the house down."
The Guardian
"Fairport is an institution, a festival, purveyors of memories, and keepers of the folk flame. But most of all they are a brilliant live band."
Folk & TumblePremier Seating: Reserved seats within Rows A-D - very limited seats left.

Standard Seating: Unreserved seats from Row E. 
HISTORIC LAVENHAM is one of the UK's most beautiful medieval villages located in the heart of Suffolk, in central East Anglia.  LAVENHAM CHURCH  is an Anglican Church serving an active and thriving community and attracts many thousands of visitors each year extending a warm welcome to all.  This fantastic setting will be a Theatre style layout with Premier/Standard seating as well as a Bar.  (Note: Toilets are limited within the Church but there are full toilet blocks within a 1 minute walk just on the edge and in the Church yard). 
Please do not contact Lavenham Church direct as they are not the concert organiser and will be unable to provide information. Please contact OEP Live for all enquiries (including disabled bookings) by emailing: susan@oeplive.com. A member of the team will respond asap.
You can find all our shows on Facebook: www.facebook.com/oeplive. Please do take a look and Like our page.
Thursday, 21st October 2021
Show:
7.30PM Doors: 6.45PM 
Tickets: 
Premier Reserved Seating £36.85 / Standard Unreserved Seating £31.35 (inc booking fee)