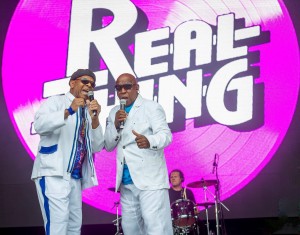 *** POSTPONED ***


THE REAL THING
The Force that is The Real Thing with original vocalists Chris Amoo & Dave Smith will performing this exclusive date in Historic Lavenham on Saturday September 5th  around the time of their new blockbuster movie release  'EVERYTHING' playing nationally in cinemas. This will also be aired on TV BBC 4. This exclusive only 2020 show at this time will be an all hits show.
Their Greatest Hits Album out on Universal Records  charted in The Top 60 in the official National Album charts and No 2 in the Amazon download charts.  This Best of album contains their 3 million selling No 1 Hits 'You To Me Are Everything' 'Can't Get By Without You' & 'Feel The Force'. Plus the lost song recorded in 1976 but never released which has sat in the vaults for over 40 years 'Someone Ought to write a song about you'. This single has received lots of Radio airplay & is massive on Spotify.  The video had over 50,000 views on you tube, The Real Thing are once again a  force to be reckoned with.
Click here to see a preview of THE REAL THING movie EVERYTHING :- 
https://youtu.be/UcVEK-ovB5g
HARRY CAMBRIDGE - LUTHER VANDROSS show
Luther Vandross  sadly passed away on July 1, 2005) but his legend and music lives on in HARRY CAMBRIDGE. In his developing career, Luther Vandross was an in-demand background vocalist for several different artists including Todd Rundgren, Judy Collins, Chaka Khan, Bette Midler, Diana Ross, David Bowie, Ben E. King, and Donna Summer. He later became a lead singer of the group Change,
Harry's career really took off after appearing on Granada TV's 'Stars In Their Eyes' as Luther Vandross.  
The producers were so impressed they invited him back for TWO more special shows.
Harry recreates the sound and has the soul in his solo show to the world's greatest soul singer Luther Vandross.
Harry Cambridge sings hit after hit they are all there including 'Dance with My Father Again ' "Never Too Much",' Always and Forever',  The Best Things in Life Are Free" and many many more. Harry has recently been taking a lead star role in the UK Productions show LUTHER UK
Just not to be missed!
Click here https://youtu.be/HaPgibXF1lU
  Harry Cambridge ' Dance with My Father Again' and more.
You can book and select your reserved seats from the plan as shown for this performance. Please be aware as each booking is made this will be converted into to your 'Bubble Reserved Seats' in the selected rows and seat numbers. Although not then amended on the plan the seats will be laid out for the performance according to bookings allowing for the current Government Guideline Social Distancing radius of your Bubble Seating (adjacent to you and in front and behind). 
Car Park spaces can be booked in advance. (Fee applies)
For all enquiries / disabled bookings, please contact the Box Office -
01256 416384
.
For Terms & Conditions, please go to: 
https://www.oeplive.com/
Children aged 14 and under must be accompanied by a paying adult.
You can find all our shows on Facebook: www.facebook.com/oeplive. Please do take a look and Like our page.
Saturday, 5th September 2020Show:
 7.30PM Doors: 6.45PM  Car Park: 6.15PM 
Tickets:
Standard £32.45  Car Park: £4.00
(inc booking fee)