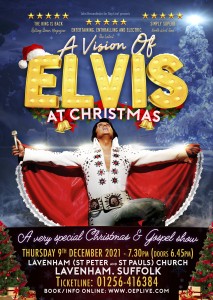 Be sure to 
Join us as we celebrate the most wonderful time of the year with the absolute best of Elvis Presley's Christmas and Gospel favourite hits featuring classics 
including
 "Winter Wonderland", "Blue Christmas", "Amazing Grace" in the first half, with the finale transporting you back in time to the peak of Elvis' touring career as multi-award winning entertainer Rob Kingsley and The Cadillac's band recreates the electricity of "Elvis Live" in concert with all the hits you love, such as; "Burning Love", Jailhouse Rock", "Suspicious Minds", " The Wonder of You" and many more!
Don't miss the opportunity to enjoy A Vision of Elvis at Christmas, perfect for the whole family.
Click Here to see an excerpt from A Vision of Elvis : 
https://youtu.be/YdrVDXOKm4E
The smash hit show A Vision Of Elvis starring Rob Kingsley winner of The National Tribute Music Awards " Official Elvis Show " and " No.1 Male Tribute Artist " is internationally renowned as one of the best Elvis Presley tribute concerts, touring the World today.
 
Long time Elvis friend, photographer and tour manager, Ed Bonja, was profoundly affected by Rob's performance, remarking "He sings like Elvis, but most importantly, he seems to capture the very soul of Elvis – his charisma, his gestures – hell he even walks like Elvis"
 
A Vision of Elvis has performed to thousands of fans in major theatres, festivals and arenas worldwide and made history by being the first Elvis tribute artist to perform at the New Wembley Stadium to over 50,000 people.
 
In this sensational new show you will experience an epic audio-visual journey through time like you've never seen before. Featuring the classic hits Stuck on You from the Timex Show, GI Blues from the Movie Years, Blue Suede Shoes from the '1968 Comeback Special' with the finale being the electrifying Concert Years which includes Suspicious Minds, American Trilogy and many, many more.

All costumes, instruments and stage settings are authentically recreated to give the feel and energy of a live Elvis concert, which promises to be the ultimate experience for any Elvis fan. Rob's contact with the audience is immediate – as soon as the show begins, surrounded by his musicians, backing vocalists and production team they take you on an emotional roller coaster, engaging audiences with a true Elvis concert experience.
 
HISTORIC LAVENHAM is one of the UK's most beautiful medieval villages located in the heart of Suffolk, in central East Anglia.  LAVENHAM CHURCH  is an Anglican Church serving an active and thriving community and attracts many thousands of visitors each year extending a warm welcome to all.  This fantastic setting will be a Theatre style layout with Premier/Standard seating as well as a Bar.  (Note: Toilets are limited within the Church but there are full toilet blocks within a 1 minute walk just on the edge and in the Church yard). 
Premier Seating: Reserved seats within Rows A-D (If you have a preference of Row / position within Row, please email susan@oeplive.com and we will do our best to accommodate your request) 
Standard Seating: Unreserved seats from Row E. 
  Please do not contact Lavenham Church direct as they are not the concert organiser and will be unable to provide information. Please contact OEP Live for all enquiries (including disabled bookings) by emailing: susan@oeplive.com. A member of the Team will respond asap.
You can find all our shows on Facebook: www.facebook.com/oeplive. Please do take a look and Like our page.
Thursday, 9th December 2021
Show: 
7.30PM Doors: 6.45PM 
Tickets: 
Premier Reserved Seating £36.85 / Standard Unreserved Seating £31.35 (inc booking fee)