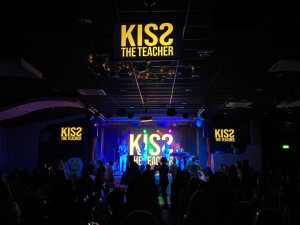 OEP Live and Kiss The Teacher presents: 
ABBA  - A FULL EVENING OF HITS & CLASSIC TRACKS.
Recreated in Sound and Vision. MAMMA MIA  -  A CONCERT PARTY !
YOU MUST BE THERE ! JUST NOT BE MISSED !
Sit and sing along or get up and dance to all the hits and more, come dressed and ready to party.
With their flawless voices, expert musicianship along with captivating choreography, Kiss the Teacher really are one of the top ABBA tributes in the UK.  They deliver at every event and are more than just another Abba tribute band.  They have become the UK's hottest ABBA band.  Wowing audiences and selling out venues across the UK. Their 100% ABBAtraction show is the only choice you should make for a go to ABBA concert.
And the hits will just keep on coming all evening including * 
When I Kissed The Teacher * Waterloo * Mamma Mia * SOS * Super Trooper * Chiquittita * Gimme Gimme Gimme * Money Money Money * Voulez Vous * Lay All Your Love On Me * Take A Chance * Does Your Mother Know * Ring Ring * Thank You For The Music * Dancing Queen * 
Knowing Me Knowing You * The Name Of The Game * Fernando * And Many More!
Click for a show preview :- https://youtu.be/5qmETdDOVBU 'Super Trouper '.
This show is Reserved Seating. 
All enquiries / disabled bookings directly through OEP Live! Please call the Box Office on 01256 416384 / 07795 387108.
You can find all our shows on Facebook: 
www.facebook.com/oeplive
. Please do take a look and Like our page.
Friday, 3rd March 2023
Show:
 7.30PM  Doors: 6.45PM 
Tickets:
 Reserved Seats £24.75 (inc booking fee)