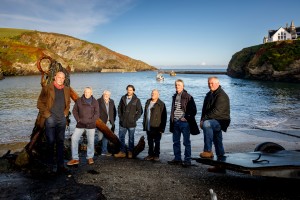 ** SOLD-OUT - Parking available if not already booked **
Bound together by lifelong friendship and shared experience for more than 25 years the Fisherman's Friends have met on the Platt (harbour) in their native Port Isaac to raise money for charity, singing the traditional songs of the sea handed down to them by their forefathers.
In 2010 they signed a major record deal and their album "Port Isaac's Fisherman's Friends" went Gold as they became the first traditional folk act to land a UK top ten album. Since then they've been the subject of an ITV documentary, released the hit albums One and All (2013), Proper Job (2015) & Sole Mates (2018) and played to hundreds of thousands of fans at home and abroad.
They sang for HM The Queen at her Diamond Jubilee celebrations in 2012, they were selected to sing for Prince Charles & Camilla during their 2016 tour of Cornwall and were honoured with the Good Tradition Award at the prestigious BBC Radio 2 Folk Awards in 2011. 2019 saw the release of 'Fisherman's Friends' a movie based on the group's discovery and signing to a major record label. The film was an immediate hit, taking nearly 10 million at the box office. And this year sees the release of the second movie 'Fisherman's Friends One And All' this autumn.
Other standout performances include the Pyramid Stage at Glastonbury Festival, Twickenham Stadium during half-time of England v Australia (an intimate crowd of 81,275!!), Cambridge Folk Festival, Beautiful Days, Sidmouth Folk Week, Looe Music Festival, Costa del Folk in Portugal and the BBC Proms in the Park.
The Fisherman's Friends are: lobster fisherman Jeremy Brown; writer/ shopkeeper Jon Cleave; smallholder and engineer John 'Lefty' Lethbridge; builder John McDonnell (a Yorkshireman who visited Port Isaac more than 40 years ago and never left); Padstow fisherman Jason Nicholas and film maker Toby Lobb. Despite their musical adventures, the band can still be found working their day-jobs and enjoying life on the North Cornish Coast.
The Fisherman's Friends have been widely credited with starting the revival of interest in shanty-style choral singing but a cornerstone of their success has been their constantly evolving and expanding repertoire. The strongest belief that the band have always held dear is that friendship will always come first, with music a very close second!!
And of course so far 2 movies :-
FISHERMAN'S FRIENDS – ONE AND ALL.
They're the original buoy band, straight out of Cornwall, and having already landed one hit movie based on their incredible story, The Fisherman's Friends are ready to set sail on the sequel and another album! With music from the film, featuring the hugely talented singer songwriter Imelda May, making her film debut. This album is everything you want it to be with songs of the sea, sometimes stirring, often poignant but mostly foot-stomping, rip-roaring fun!! Fisherman's Friends One and All- starring James Purefoy, David Hayman and Maggie Steed leading a cast that also includes Ramon Tikaram (Jupiter Ascending, EastEnders, This Life), Jade Anouka (His Dark Materials, Last Christmas) and Joshua McGuire (Lovesick, Anatomy Of A Scandal, Misfits) We re-join the band a year after the unexpected success of their debut album as charted in the first film. It has been a whirlwind 12 months and the demands of the music industry have taken their toll. Where once they hauled nets, they're now expected to land hits and the notorious 'second album syndrome', plus the pressures, pitfalls and temptations of their newfound fame, are all starting to bite hard. Then there's the small matter of their impending performance on the Pyramid Stage at Glastonbury, the most famous music festival in the world.
FISHERMAN'S FRIEND – STILL HAULING
The original 'buoy band', bound together by lifelong friendship and shared experience. For 30 years the Fisherman's Friends have met on the Platt on the harbour in their native Port Isaac to sing the songs of the sea. A decade ago they were persuaded to sign the record deal that saw their album Port Isaac's Fisherman's Friends go Gold as they became the first ever traditional folk act to land a UK top ten album. Now the incredible true story of how that happened is told in Fisherman's Friends. From the makers of the 2018's hit 'Finding Your Feet', this new movie starring Daniel Mays, James Purefoy, Tuppence Middleton, Noel Clarke and directed by Chris Foggin is already tipped to be the feel good hit of the year. The film opens in UK cinemas on March 15th 2019. The Keep Hauling album contains 17 Sea Shanties , some old , some new and some slighty blue.
Click here for 
The Fisherman's Friends singing Leave Her Johnny at The Minack Theatre 2019 - 
https://youtu.be/F1qzFA1ZpLY
This show is Reserved Seating.  
Premier Seats:
 Rows A to C inc
Standard Seats:
 Row D to Row Q
Picnic Pitches:
 Located to the outside of the structure on the grass to the left.  This has a good view of the stage and show sound. You are allowed to bring food, pop-up chairs and small tables but not alcohol. Upon arrival at the Box Office you and your picnic party will be shown to your picnic pitch.
Hot food will be available at this concert.
Parking:
 On site parking (fee applies).  We have a limited number of Self-Contained Camper Vehicles/Caravans parking spaces and Tent pitches.  Arrival from 12pm on day of concert.  Concert tickets need to be purchased separately. (24hrs on-site).
All enquiries / disabled bookings directly through OEP Live! Please call the Box Office on 01256 416384 / 07795 387108.
You can find all our shows on Facebook: 
www.facebook.com/oeplive
. Please do take a look and Like our page.
Saturday, 12th August 2023
Show: 
7.30PM Gates: 6.00PM 
Tickets: 
Premier Reserved Seats £50.05 / Standard Reserved Seats £43.45 / Parking £6.60 / Self-Contained Camper Vehicles/Caravans £33.00 & Tent Pitch £22.00 (for 24hrs) (all prices inc booking fee)