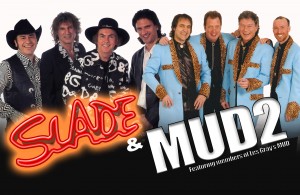 Christmas comes early when an exclusive rare appearance of two of the biggest bands of pop history, with two of the biggest Christmas hits, come to the stage.
SLADE are without doubt one of the most exciting bands to come out of Great Britain. With their unique blend of perfect pop rock'n'roll, outrageous flamboyance, pure fun and no less than 23 Top-20 singles of which 6 were No-1 hits... plus 6 smash hit albums, Slade have become a firm favourite in the hearts of pop fans all over the world. With a chart career that has spanned 3 decades hear their enduring songs Cum On Feel The Noize, Coz I Luv You, Look Wot You Dun, Mama Weer All Crazee Now, Merry Christmas Everybody plus many more live.
After the original band MUD broke up in 1979, Les Gray reformed the band as 'Les Gray's Mud'. In 1987 everyone with the exception of Gray departed the band, and Gray brought in bassist John Berry, drummer Wole Rothe, and guitarist Syd Twynham as replacements. This lineup lasted until 1998 when Rothe was replaced by Phil Wilson, and the band underwent no further changes until the death of Gray in 2004. Following Gray's passing, the three remaining members were given permission by the other founding members of Mud, plus that of Gray's family, to continue using the band's name. Berry, Twynham, and Wilson then rechristened the band 'Mud II' and recruited keyboardist and longterm Mud collaborator Chris Savage.The following year Berry left and was replaced by Marc Michalski, creating the lineup of the band which still continues to this day.
The show is another back to back all hits show including Dyna-Mite, Rocket, The Secrets That You Keep,The Cat Crept In,One Night, Oh Boy, Tiger Feet, Hypnosis, Moonshine Sally, Crazy and not forgetting Lonely This Christmas!
You can find all our shows on Facebook: www.facebook.com/oeplive
Sunday, 29th October 2017
Show:
7.30PM Doors: 7.00PM
Tickets:
£35.50 (inc booking fee)