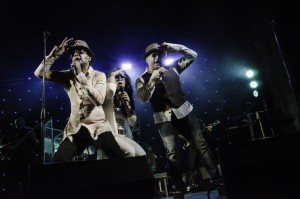 Shalamar - Friends – 35th Anniversary Tour
Special Guest Support - SIMON CHIVERTON
HISTORIC LAVENHAM is one of the UK's most beautiful medieval villages located in the heart of Suffolk, in central East Anglia.
LAVENHAM CHURCH is an Anglican Church serving an active and thriving community and attracts many thousands of visitors each year. LAVENHAM and LAVENHAM CHURCH extends a warm welcome to all and new and exclusively on FRIDAY, 20TH APRIL 2018 - SHALAMAR.
The Lavenham Church show will be part of Shalamar - Friends - 35th Anniversary Tour 2018.
This fantastic setting will be a Theatre style layout with unreserved seating as well as Licensed Bars, surround sound and video screens. (Note: Toilets are limited within the Church but there are full toilet blocks within a 1 minute walk just on the edge and in the Church yard). Disabled requirements can also be catered for. Please mention any requirements upon booking.
Why not also stay the Night in Lavenham and experience the magic of Lavenham and surrounding areas . You will not be disappointed.
We recommend -
www.lavenhampriory.co.uk
01787-247404 – Stay right in the heart of Historic Lavenham where you will be looked after in style and just a couple doors away from the house
where Harry Potter was born !!
As Shalamar, Howard Hewitt and Jeffrey Daniel sold over 25 million records worldwide and collected no less than 100 gold, silver and platinum awards. They always whip the crowd into a frenzy with classics such as "A Night To Remember", "I Can Make You Feel Good", "Friends", "Make That Move", "There It Is" and "I Owe You One". Howard and Jeffrey, together with Carolyn Griffey – the daughter of Solar Records founder Dick Griffey, bring an exciting blend of funk, disco and soul to every live show. One of the most powerful and energetic acts on the circuit today.
As noted in the British Hit Singles & Albums, Shalamar were regarded as fashion icons and trendsetters, and helped to introduce 'body-popping' to the United Kingdom. Jeffrey Daniel brought street dance to the UK – he is noted as the dance mentor for Michael Jackson and the man that taught him the moonwalk. Howard Hewett is a one of the most iconic US soul artistes of all time, releasing numerous solo albums and collaborating or performing with some of the greats including Stevie Wonder, George Duke, Earth, Wind and Fire, Teena Marie, Anita Baker, Dionne Warwick, Deniece Williams and El Debarge. He was recently voted by Soul Tracks as one of the top 10 greatest male soul singers of all time.
UK Tour
Shalamar will be performing live across the UK in April and May 2018 to celebrate the 35th anniversary of the bestselling "Friends" album. The acclaimed autumn tour took on 23 dates and spring 2018 will be the last chance for the public to hear the songs performed from Shalamar's best selling and most Iconic album.
Friends
"Friends", the platinum-selling album, featured four top twenty hit singles - "A Night To Remember", "Friends", "There It Is" and "I Can Make You Feel Good". The album gained impetus from the legendary Top of the Pops performances by Jeffrey Daniel who demonstrated the first moonwalk on European TV screens. Shalamar are regarded as one of the most influential bands of their time, injecting their unique style, energy and passion into sounds that have commanded dance floors the world over. "Friends" is the album that helped to cement their place in musical history.
New Single
The new single from Shalamar - the first single for over 20 years was recently released. The song was premiered on the Steve Wright show and as part of the Radio 2 - 50th birthday celebrations, where it was performed live on air at the Manchester Apollo. There will be further releases in 2018.
The single can be listened to at the following link www.youtube.com/watch?v=UTgeIO2tx0s and on Facebook at www.facebook.com/ShalamarFriends/videos/1801819073448475/
Shalamar Live
Shalamar also perform classic songs such as "Take That To The Bank", "The Second Time Around", "Make That Move", "I Owe You One", "Dead Giveaway", "Right In The Socket", "Full Of Fire", "Sweeter As The Days Go By", "Over And Over" and "This Is For The Lover In You". With 25 million record sales under their belts, Howard and Jeffrey, along with the newest member Carolyn Griffey drive audiences crazy with a dynamic blend of funky feel good music.
Jeffrey Daniel's Legendary Appearance on Top Of The Pops - A Night To Remember -
www.youtube.com/embed/END_WYdf8pw
VIP Tickets
are available which include:
- Meet and Greet with Shalamar (pre-show)
- Front/Second row seats
- Photograph/Autograph opportunity
- Signed Programme
Special Guest - Simon Chiverton has opened shows all over the country for Rock and Roll Hall of Fame inductees and Grammy Award winning artists including, Alexander O'Neal, Jimmy Cliff, Martha Reeves and The Commodores. Tonight will see Simon showcase his latest single "Wanna Be Your Man" which was written and produced by the legendary Jeffrey Daniel of Shalamar.
Please call Susan at OEP Live! to book these seats on
01256 416384
.
You can find all our shows on Facebook: www.facebook.com/oeplive. Please do take a look and Like our page.
Friday, 20th April 2018
Show:
7.30PM Doors: 6.45PM
Tickets:
£39.50 - £60.50 (inc booking fee)