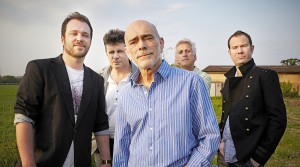 TICKETS AVAILABLE ON THE DOOR - ONLINE SALES NOW CLOSED
The Non Stop 60's Hits & Laughter Show featuring The Marmalade, Dozy Beaky Mick & Tich & The Tornados 
Surround Sound PA system * Bar * Video Screens  
Long Melford a historic village in the heart of Suffolk has an amazing church which lends itself to be transformed into a Concert Theatre venue.  Please do take the opportunity if you are visiting this area to stay the night and explore some of the many other historic villages.  We recommend Lavenham Priory - 
www.lavenhampriory.co.uk
  01787-247404 –  Stay just a couple of doors away from the house where Harry Potter was born!!
THE MARMALADE take to the stage and the hits will just keep on coming from the late 60's into the 70's so a real bonus!    Lovin' Things : Baby Make it Soon : Mr Tambourine Man : Summer in the City : I Shall be Released : Reflections of My Life : Rainbow : My Little One : Cousin Norman : Radancer : Just One Woman and of course  their massive Number 1 hit Ob-La-Di, Ob-La-Da !  
Click here :-
http://youtu.be/0ZzM1XlLpLU
  The Marmalade  'Reflections of my Life'  
A very rare appearance of the multi-platinum hit makers DOZY BEAKY MICK AND TICH with an all hits set including Hold Tight : Hideaway : Bend It : Save Me :Touch Me : Okay :Zabadak : Legend Of Xanadu : The Wreck Of The Antoinette : Snake In The Grass : Mr. President : The Sun Goes Down and many many more!  
Legends THE TORNADOES in a special one off appearance. 1960s Tornados organist Dave Watts, were signed to the infamous independent record producer Joe Meek at his home recording studio at  Holloway Road Islington. Dave joined the Tornados ® in 1964 recording and touring for Joe Meek, during 1965 Meek sacked all the personnel with the exception of Dave Watts, thus creating a brand new line-up. In Winter of 1966 Dave Watts and Joe Meek, under pressure from the infamous Kray twins bedook a series of concerts abroad but 3rd February
Joe Meek shot dead his landlady Violet Shenton and then himself.  Today the Tornados  employ some of the best UK musicians to carry the legend forward and creating a beat stomping show that does not disappoint.  The worldwide number one record TELSTAR performed by the classic 1962 line-up is still a huge selling record in these modern times, the Tornados ® today do not only play the famous instrumentals but also perform hits by the stars that the Tornados ® backed during the sixties. The list is endless.  
And the very Popular (just for fun !) 5-4-3-2-1 60's POP QUIZ  (free to enter) and music memorabilia prizes.  
This show is unreserved seating.
All wheelchair users please book directly with the Box Office.
You can find all our shows on Facebook: www.facebook.com/oeplive. Please do take a look and Like our page.
Saturday, 27th October 2018 
Show:
 8.00
 PM Doors: 7.15 PM
Tickets:
 £28.00
 (inc booking fees)