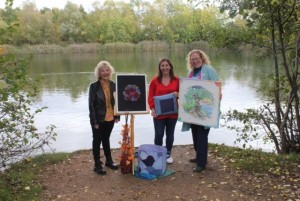 Mindful Threads of Nature in Wellbeing
Tuesday 28 February - Sunday 5 March 2023
Open daily 10am to 4pm
Free admission. No need to book.
Susan Blandford, Isabel Gomes and Maria Morris collaborate to bring you their unique talents and creative art pieces to fill your living or work space, heart, mind and soul.
Join us to calm your chaos, lighten your day to day burdens and energise your moment. Our natural art work allows you to use all your senses to enjoy the healing power of nature. Connect to your core of calm. Regain a sense of wholeness again through our artistic work. Please see our website for the latest information -
mindfulthreadsofnatureinwellbeing.org
Our exhibition of mixed media textiles, upcycled fabrics, multi media paints, pencils and crayons plus natural materials, art and sculpture pieces.
How about enjoying creativity yourself? Learn or reinvigorate an used artistic skill and take away a creative nature piece while we share some of our creative nature themed artistic skills and the joy of nature through our Mindful Threads of Nature in Wellness Workshops.
Wellbeing Walkabout
Upcycling Textile Workshop
Crochet Creation