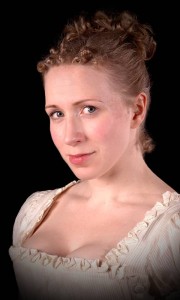 Thirteen of Jane Austen's heroines come to life in this bold revisiting of some of literature's most celebrated works. Using only Austen's words, Rebecca Vaughan becomes Emma Woodhouse, Lizzy Bennet, Mrs Norris, Miss Bates and nine other beautifully observed women in critical moments from the major novels (including Pride and Prejudice, Sense and Sensibility and Emma) and lesser known or unfinished works.
From the creators of Dalloway and Christmas Gothic.
Dyad Productions in association with TTI.
Adapted & performed by Rebecca Vaughan.
Directed by Olivier Award winner Guy Masterson.
"Truly extraordinary…Rebecca Vaughan is one of the most exciting young performers on the British stage" ***** - British Theatre Guide
"A theatrical masterpiece… utterly faultless and vastly entertaining" ***** - Three Weeks
Friday 23 June & Saturday 24 June 2017 - 7.30pm
Tickets
: £14.50 Tickets are no longer on sale online or by phone but there are tickets available on the door (cash only please). We are open from 6.30pm.