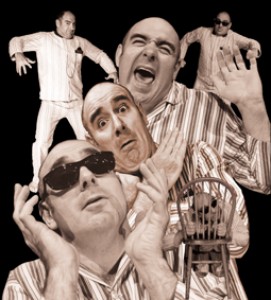 by Dylan Thomas
Performed by Guy Masterson
Directed by Tony Boncza (with original direction by George Dillon)
Original music and Soundscape by Matt Clifford
One of the most successful solo shows of all time with over 2000 performances worldwide!
23 years after its Edinburgh debut, Olivier Award winner Guy Masterson presents the highlights of his globally acclaimed solo tour-de-force Under Milk Wood in a semi-skimmed version! This 65 minute show is an hilarious lyrical romp through Dylan Thomas's fictional 'Llarregub'! It may be slimmed down, but it's so rich and full that audiences would be hard pressed to know what he's left out!
It has to be seen to be believed! In an astonishing performance that defies expectation, Masterson whisks the audience into a wonder-world of enchantment. Bawdy and beautiful, sad and sensual, it leaves indelible, unforgettable images. The beauty of Thomas's wordplay and the mastery of Masterson's virtuosity will leave you breathless.
"It's a feat of multiple characterisation impeccable timing, vocal dexterity and precise physical control, performed with tremendous sensitivity and panache!" (The Guardian)
"Absolutely wonderful, intensely therapeutic, intensely uplifting! Guy Masterson is something exceptional!" (BBC Radio Scotland)
Find out more and watch clips on The Swallow Theatre website
Monday 2 April 2018 and Tuesday 3 April 2018 - 7.30pm
Tickets
: £14.50 (Friends' Early Bird: £13.50 if booked by 31 March - special start of the season deal!)
Age guidance: 11+
65 minutes with no interval.