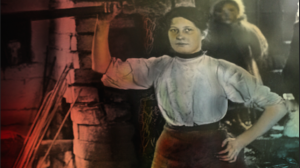 We start our 2019 season with Rouse, Ye Women! a new folk ballad about Glasgow-born Mary Macarthur and the women chainmakers.

Women chainmakers in the Black Country in the 1900s started work at the forge as children and spent their entire lives making chains. These women had no vote, were largely illiterate, worked a 54-hour week for 'starvation wages', and had to take their children to work.

But in the Autumn of 1910 hundreds of women chainmakers of Cradley Heath held a ten-week strike against their employers. Led by the remarkable trade union organiser and campaigner Mary Macarthur, they won a minimum wage which doubled their incomes.

More importantly, they returned to work confident in the knowledge that by sticking together in a union they could stand up to the chain masters and companies.

The strike was a prelude to the 'Great Unrest' of industrial action that swept Britain in 1911, and led to a landmark victory for a fair wage, changing the lives of thousands of workers, whilst proving their economic power.

With live folk music written and arranged by world-renowned folk musician John Kirkpatrick (Steeleye Span, Home Service, Richard Thompson Band, etc.) Rouse Ye Women is a compelling and humorous groundbreaking new show which stars exciting new singer Bryony Purdue and established folk singer Rowan Godel (Oysterband) with Neil Gore, founder and core member of Townsend Theatre Productions (The Ragged Trousered Philanthropists).

Director Louise Townsend said: "Through this production we will aim to draw parallels with the inequalities in the lives of women just over a hundred years ago with modern issues of family life, low pay, the minimum wage, the gender pay gap and equality of opportunity."

This eloquent, stirring folk ballad delivers a powerful theatrical experience.
 ★★★★ 'A powerful story, powerfully told.' Clare Brennan. The Observer
 Guardian Readers' favourite theatre of 2017
 ★★★★★ 'An absolute winner.'  LondonTheatre1

Tuesday 19 March 2019 - 7.30pm
Townsend Theatre Productions
Written by Neil Gore and John Kirkpatrick
Tickets : £13.50 (Friends' Early Bird: £12.50 - when booked at least 28 days in advance)
Suitable for age 11+
Just under 2 hours including an interval.