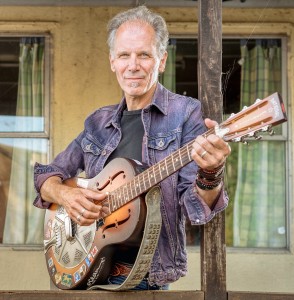 Brooks Williams hails from Statesboro, Georgia, the town made famous by country-blues legend Blind Willie McTell. Ranked in the Top 100 Acoustic Guitarists, he's a mean finger-picker and a stunning slide guitarist. Plus, "he has a beautiful voice," says AmericanaUK, "that you just melt into." Not one easy to pigeon-hole, Brooks' music is the love-child of country-blues and Americana. fRoots says, "Soulful Americana, full-on blues and tasty rootsy grooves. He really rocks!" 
Williams got his start in the clubs and bars around Boston, the same music scene that years earlier sparked the careers of Bonnie Raitt and Chris Smither. There, playing 5-6 nights a week, he developed his signature sound: laid-back low-country vocals floating over Resonator riffs, Piedmont picking, and cigar box slide. No wonder friend and fellow guitar wizard Martin Simpson calls Brooks the "Real Thing!" 
His massive repertoire reads like a roots music Hall Of Fame. Classic blues ranging from Bessie Smith to Memphis Slim. Compelling covers from the likes of Dave Alvin, Buddy Miller and Mose Allison. "On top of all this," writes American Roots UK, "is his songwriting which stands comparison with virtually any of his peers." Rooted in tradition his songs are timeless. Utterly contemporary they are wryly observed and relevant. 
With twenty-eight albums to his name, including his latest, "Lucky Star", plus "Brooks' Blues" (2017), "My Turn Now" (2016) and "Shreveport Sessions" (2014), and a vigorous touring schedule, Williams is one of acoustic roots music's guiding lights. From festival stages to listening rooms, from Newport to Philly, Boston to Glasgow, Cambridge to Belfast, London to Detroit, Brooks Williams is, says the San Antonio Light, "a fret monster who has to be seen to be believed!"
"At the top of his game, setting new standards and a fresh direction for the blues." Blues In Britain 
"It might have been a lucky star which brought Brooks Williams to UK shores, but it is pure talent, hard work and relentless touring which has brought him to the pinnacle of his career. "   Dave Scott, Blues Bytes
"If Pete Seeger is right, and the answer to world peace is music, Brooks Williams would make a great choice for ambassador."  Sing Out!
Tuesday 16 April 2019 - 7.30pmTickets
 : £13.50 (Friends' Early Bird: £12.50 - when booked at least 28 days in advance)
​Age guidance: 12+