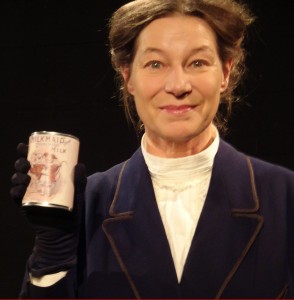 'Eglantyne' is a one-woman play exploring the extraordinary life of Eglantyne Jebb, a courageous, charming, passionate, humanitarian, human rights activist, radical fundraiser, social reformer and co-founder of Save the Children.  From her idyllic Shropshire childhood, Eglantyne went on to Oxford University, social work in Cambridge, heartbreaks, suffrage rallies, spiritualism, the Balkans, arrest in Trafalgar Square, saving starving children and pioneering children's rights.In 1919, responding to the British Government's lack of response to the devastating famine in postwar Europe, Eglantyne and her sister Dorothy Buxton founded Save the Children. Eglantyne drew up the Rights of the Child which evolved into the current United Nations Convention on the Rights of the Child. Eglantyne Jebb is one of the most influential women of the 20th century and yet one of the least known.
Anne Chamberlain was born in Canterbury, New Zealand, studied at Otago University and works in front of and behind the scenes in theatre, film, television and festivals. In 2014, Anne wrote, performed, produced and toured 'Eglantyne' in New Zealand receiving high critical acclaim. In 2015, Anne toured 'Eglantyne' in the UK launching with a private preview at Eglantyne Jebb's childhood home The Lyth, Ellesmere, Shropshire and the premiere at Shrewsbury's Theatre Severn. Anne produced, co-wrote and performed in the comedy group The Flannelettes who played at the Olympics Arts Festival in Barcelona. Anne produced, co-wrote, directed and performed in the successful touring children's musical comedy Witch Mother. Anne's other notable acting roles include Viola in Twelfth Night, Adrianna in The Comedy of Errors, Jill in Equus, Joyce in The Ruffian on the Stair, Ariel Bright in Ariel Bright and Vicki in Long Gone Lonesome Cowgirls. Anne's behind the scenes roles have included Manager of the 2012 New Zealand Arts Festival's Writers & Readers Week, Voice Artist for Deutsche Welle TV, Michael Palin's Personal Assistant, Communications Manager for the New Zealand Film Commission and National Publicist for Columbia TriStar Films (UK).
KC Kelly is an American by birth, a Kiwi by choice.  He studied at the Webber Douglas Academy of Dramatic Art and Columbia University.  KC has been an actor for 39 years and for many years was the Senior Drama Tutor at Toi Whakaari, the National Drama School.  He directed Gary Henderson's An Unseasonable Fall of Snow for the 1998 New Zealand Arts Festival.  KC's other directing credits include Jane Keller's Boomers Behaving Badly, The Boxer by Matthew Saville, Knot a Problem and Island Mafia.  KC is co-founder and the current producer and artistic director of EnsembleImpact which tours New Zealand plays to secondary schools throughout the country.
"Compelling delivery that is strong, colourful and sympathetic … Do not miss seeing this account of the life of a monumental woman told with such authenticity, it was as if Eglantyne herself was in the room!" – Sarah Wallace, The Plus Ones - Melbourne
"Outstanding performance, engaging and endearing in equal measure … Not only is this a great show, it's also a really important story of an incredible life. A love letter to a woman that changed the lives of so many around the world, and whose legacy continues to do good to this day" – Bethan Highgate-Betts, The Reviews Hub – London
"Chamberlain filets Jebb's thorny story with wit and a light champagne brilliance of presentation …This could not be conceived better as a one woman show … enlightening and moving in equal measure" – Simon Jenner, Fringe Review – UK
"Written with wit and buoyancy, delivered in fine style" – Lindsay Clark, Theatreview, Christchurch
"Studied and heartfelt portrayal … engaging, informative and very entertaining" – Ewen Coleman, The Dominion Post, Wellington
Friday 28 June 2019 - 7.30pmTickets
 : £12.50 (Friends' Early Bird: £11.50 - when booked at least 28 days in advance)
Recommended age 12+
75 minutes straight through, followed by an optional, informal Q&A.
Kindly sponsored by the Swallow Theatre Association.
Ticket proceeds will be donated to the Wigtownshire Branch of Save the Children.