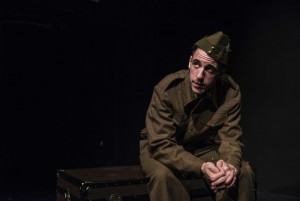 In Loyal Company
is the incredible true story of missing World War II soldier and prisoner of War Arthur Robinson, written and performed by his great-nephew, David William Bryan.
May 1941. Hitler's bombs rain on Liverpool. Local packer, Arthur Robinson, joins up becoming a private in the 18th reconnaissance division.  Deployed to Singapore, his ship is destroyed by Japanese dive bombers on arrival. Arthur is declared missing. This extraordinary true story of survival is a tour-de-force war epic.
Having premiered at Edinburgh Fringe in 2018, selling out 30 shows in 27 days, the show is touring extensively in 2019.
'
A tour de force
' The Scotsman 
'
A fresh sense of humanity
' The Stage
'
A masterpiece
' Broadway Baby
★★★★★  (BroadwayBaby.com)
★★★★★  (Britishtheatreguide.info)
★★★★★  (MyTheatreMates.com)
★★★★★  (Edinburgh Guide)
★★★★  (The Stage)
★★★★★ (Fringe Guru)
★★★★ (Edinburgh Reporter)
★★★★★  (Essential Surrey & Southwest)
Friday 7 June 2019 and Satuday 8 June 2019 - 7.30pmWritten and performed by David William BryanTickets
 : £12.50 (Friends' Early Bird: £11.50 - when booked at least 28 days in advance)
Suitable for age 10+ (a couple of swear words, gunshots/explosions, and war content).
Approximately 70 minutes with no interval.